Rent a Fitnex T60 Treadmill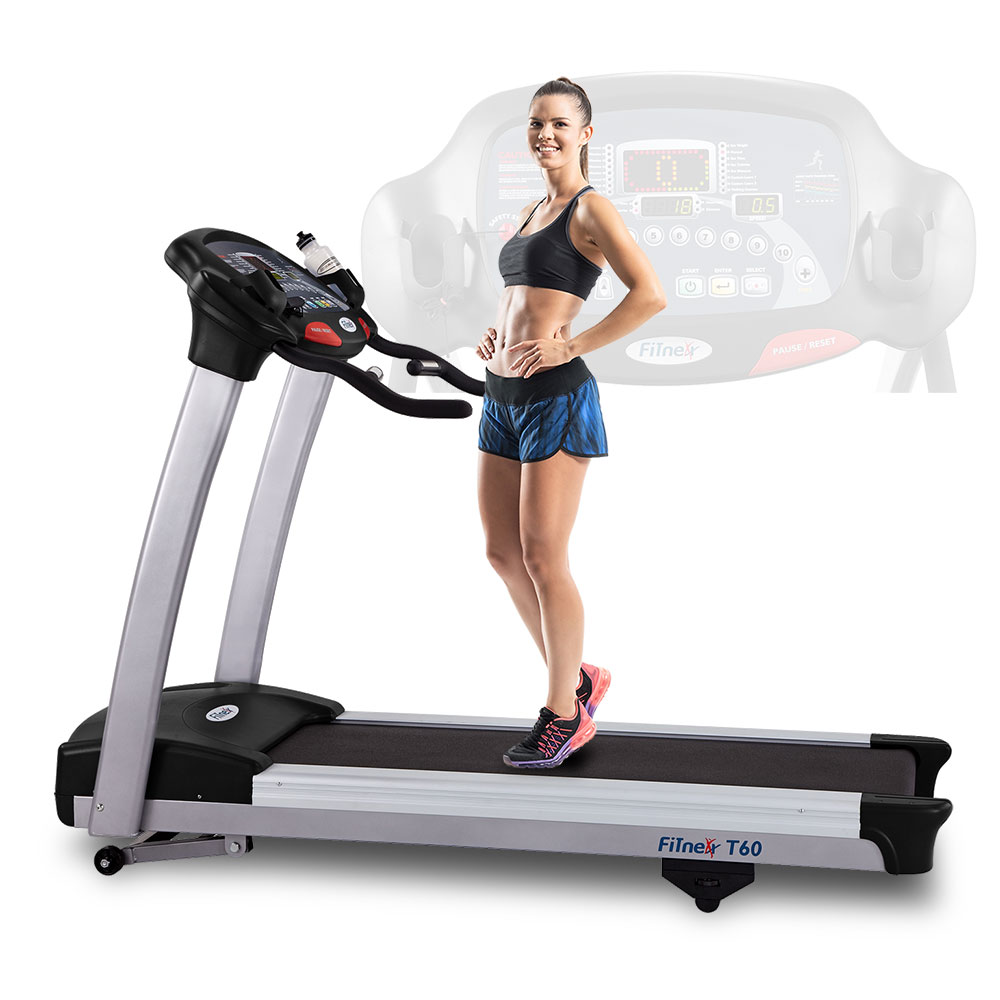 Our professional model. Includes heart rate control and 26 built-in programs including two Custom Learn programs. All information is displayed on a Profile Matrix LED display console. 19.5"x60" running area. Feedback includes elevation, heart rate, time, speed, calories and distance.

T60 User Manual
Special Features - Dual water bottle holder
Display - Profile Matrix LED display, 3 window LED display,
scrolling message center.
Display Feedback - Elevation, Heart Rate, Time, Calories, Speed, Distance
Programs - Total programs 13 Custom Learn I & II (2), Set Time (1), Set Calories (1), Set Distance (1), Manual (1), Walking Course (1), Running Courses (1), Cardio (1), Fat Burning (1), Endurance (1), Interval (1), Heart Rate Control (1)
Quick Keys - Speed 1-10
Speed Range - 0.5 -10 MPH (0.8 - 16 KPH)
Incline Range - 0~15% (700 lbs) (318 kg) Thrust Motor
Heart Rate Monitor - Wireless and Contact Grips
Motor System - 3.0 HP continuous Duty DC Drive Motor with PWM System
Cushion System - 8-Point Elastomer Cushioning System
Rollers -
Precision Mode 2.4" (60 mm)
Deck - 1.02" (26 mm)
Step-on Height - 10" (26 cm)
Belt Type - 2-Ply Urethane High Density Conductive
Power Requirements - 110v / 220v
Running Area -v 60" x 19.5" (152 x 49.5 cm)
Dimension - 81" x 34" x 59" (207 x 88 x 149.5 cm)
Product Weight - 255 lbs (116 kg)
Max User Weight - 350 lbs (160 kg)
- Residential Rental Rates -
12 months - $85/m
6 months - $105/m
monthly - $130/m
100% Service & Maintenance Included!
Standard Delivery Charge (Pickup included) $100
Rent T60 Treadmill Here
Questions? Call 512-687-3161
Multiple pieces, Businesses and Short Term Rentals use Custom Gym Quote