AR1 Xebex Air Rower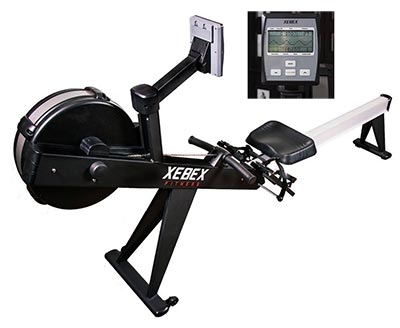 We compared them side by side and concluded the Xebex Air Rower AR1 is better than that Concept 2 Model D and the Concept 2 Model E. So we've switched to offering the Xebex Air Rower! The Xebex has a higher seat height, making it easier to get on and off. It's heavier and more stable in use. The seat is more comfortable. The foot holders are easier to change. The fan is great. And most importantly the return of the row is smooth as butter.
Xebex Air Rower Dimensions:
• Length: 96"
• Width: 13"
• Height: 47"
• Weight: 95 lbs
• Max user weight: 500 lbs
Features:
• 95lb heavy duty frame (heavier and more stable than most rowers) is built for commercial and home use.
• 55" monorail is sure to accommodate legs of all lengths.
• Air resistance with damper settings allows you to change resistance from 1-10.
• Chest strap compatible, but not included.
• Seat is 21" from ground to allow easy access on and off of the machine.
• Extra padding on seat provides a comfortable workout.
• Extra padding on handle ensures a no blister routine.
• 1-touch adjustment on footing to accommodate all foot sizes.
• Simple fold-up design cuts the horizontal size in half for easy storage. Includes wheels for easy transport.
Computer Features:
• Large LCD monitor with big buttons.
• Programs allow you to set distance, calorie or time targets.
Workout data includes:
• Time
• Distance
• Watts
• Calories
• Heart Rate
• Paddle Width
Call 512-687-3161 to Purchase Xebex Air Rower
(MSRP $960)
Price $900 + Tax $74.25
Shipping (4-6 days) $108
Grand Total $1,082.25
512-687-3161 Please call us with any questions
and/or to place your order.
Contact Information:
FitDel
8222 Jamestown Drive #D102
Austin, TX 78758

Refund Policy: To keep pricing as low as possible, FitDel does not offer refunds on purchased equipment. See manufacturers warranties below.

Rental Note: Rented equipment may be exchanged at any time during the course of your contract. All you pay for is delivery and you will be billed moving forward at the rate of new piece of equipment. Your rental contract remains the same length.
Billing Terms & Conditions: FitDel only sells and ships equipment within the state of Texas. The price above is exactly what you will pay. We accept Visa, Mastercard, Discover as payment on phone orders.
Warranty Information: Warranties are provided by Manufacturers.
Rental Note: Warranties are not applicable to Rental equipment as ALL service and maintenance is included in your rental.
Fitnex Registration
http://www.fmiamerica.com/warranty-registration.html
BowFlex Registration
http://www.bowflex.com/customer-service/product-registration.html
Body-Solid Registration
http://www.bodysolid.com/warranty/warranty_registration/