Adjustable Multi-Bench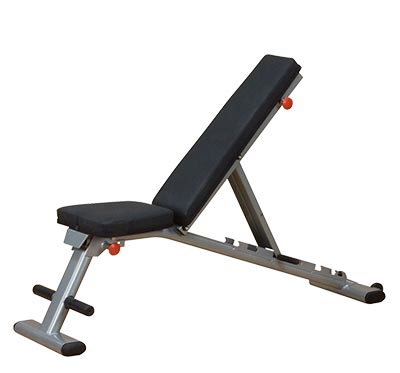 Body-Solid Adjustable Multi-Bench

Features include seven adjustment positions for flexibility and comfort. The 2" x 3" oval tubing ensures durability and support for the heaviest of workouts. Built-in wheels make transport quick and easy and it folds flat for storage under a bed or on end in a closet.
Body-Solid Adjustable Multi-Bench Specs:
• Seven adjustment positions
• Transport wheels for mobility
• In Use Dimensions: 18"H x 57"L x 16"W
• Folded Dimensions: 9"H x 57"L x 16"W
• Distance from ground to flat position 18"
• Back pad dimensions tapered 8-9.5" length 31"
• Seat pad dimensions tapered 11-15" length 11.5" thickness 2.5"
Call 512-687-3161 to Purchase Adjustable Multi-Bench
(MSRP $345)
Price $265 + Tax $21.86
Shipping (4-6 days) $31.8
Grand Total $318.66
512-687-3161 Please call us with any questions
and/or to place your order.
Contact Information:
FitDel
8222 Jamestown Drive #D102
Austin, TX 78758

Refund Policy: To keep pricing as low as possible, FitDel does not offer refunds on purchased equipment. See manufacturers warranties below.

Rental Note: Rented equipment may be exchanged at any time during the course of your contract. All you pay for is delivery and you will be billed moving forward at the rate of new piece of equipment. Your rental contract remains the same length.
Billing Terms & Conditions: FitDel only sells and ships equipment within the state of Texas. The price above is exactly what you will pay. We accept Visa, Mastercard, Discover as payment on phone orders.
Warranty Information: Warranties are provided by Manufacturers.
Rental Note: Warranties are not applicable to Rental equipment as ALL service and maintenance is included in your rental.
Fitnex Registration
http://www.fmiamerica.com/warranty-registration.html
BowFlex Registration
http://www.bowflex.com/customer-service/product-registration.html
Body-Solid Registration
http://www.bodysolid.com/warranty/warranty_registration/