Bowflex Adjustable Dumbbells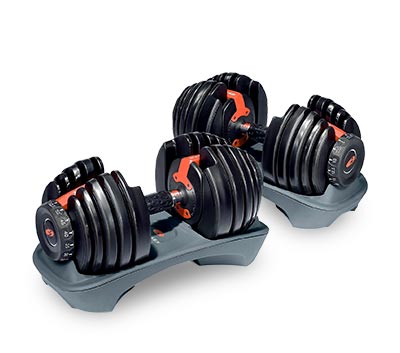 Bowflex SelectTech 552 Adjustable Dumbbells
• Select the Weight You Want with a Turn of the Dial
No more picking up 30 different dumbbells to give you the results you want!
• Each Dumbbell Adjusts from 5 to 52 lbs
• Space Efficient
Say goodbye to 15 sets of dumbbells cluttering your workout space.
• Wider Weight Range
With weight that adjusts up to 52.2 lbs., you'll continue to see results as your fitness level improves.
• Quieter Workouts
Durable molding around metal plates provides for a smooth lift-off and quieter workouts...no clanging metal plates!
•Total Body Results
With the wider weight range you can do heavy exercises such as shrugs and lunges as well as lighter exercises such as curls and raises.
552 PRODUCT SPECS
Weight Range: 5 to 52.5 lbs (2.27 to 23.8 kg) for each dumbbell
15 Weight Settings: 5, 7.5, 10, 12.5, 15, 17.5, 20, 22.5, 25, 30, 35, 40, 45, 50, and 52.5 lbs
Maximum Number of Exercises Available: 30+
Dimensions:15.75" L x 8" W x 9" H (40 x 20 x 23 cm) (Each)
Call 512-687-3161 to Purchase Bowflex Dumbbells
(MSRP $349)
Price $300 + Tax $24.75
Shipping (4-6 days) $36
Grand Total $360.75
512-687-3161 Please call us with any questions
and/or to place your order.
Contact Information:
FitDel
8222 Jamestown Drive #D102
Austin, TX 78758

Refund Policy: To keep pricing as low as possible, FitDel does not offer refunds on purchased equipment. See manufacturers warranties below.

Rental Note: Rented equipment may be exchanged at any time during the course of your contract. All you pay for is delivery and you will be billed moving forward at the rate of new piece of equipment. Your rental contract remains the same length.
Billing Terms & Conditions: FitDel only sells and ships equipment within the state of Texas. The price above is exactly what you will pay. We accept Visa, Mastercard, Discover as payment on phone orders.
Warranty Information: Warranties are provided by Manufacturers.
Rental Note: Warranties are not applicable to Rental equipment as ALL service and maintenance is included in your rental.
Fitnex Registration
http://www.fmiamerica.com/warranty-registration.html
BowFlex Registration
http://www.bowflex.com/customer-service/product-registration.html
Body-Solid Registration
http://www.bodysolid.com/warranty/warranty_registration/