Fitnex E70 Elliptical Trainer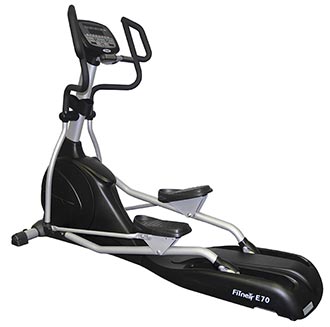 Give your body a hardy workout without stressing your joints with the Fitnex E70 Elliptical Trainer. Design & Engineering come together in this unique masterpiece of exercise technology. The E70 is a self-generating elliptical machine for low-impact cardiovascular exercise. The E70 has forward and reverse directional movement, EKG grip pulse handles, extra wide pedals, water bottle holder, and heavy duty steel frame construction.
Console Type: 4-Windows with Dot Matrix LED Display.
Console Feedback: Time/Distance/RPM/ Heart Rate/Work Level/Watt/ Speed/Calories
Programs: Manual/Weight loss/Fat burn/ Interval/Rolling/CV Workout/ Random/Heart Rate Control (HR-Weight Loss,HR-Interval,HR-Fat Burn,HR-CV workout)
Resistance Levels: 16
Power Requirement: Self-Generator
Floor Space: 222×65.5cm / 87"×26"
Max. User Weight: 400lbs(180kg)
Stride Length: 48cm(19")
Watt: 30~250 WATTS
Contact & Wireless HR: Yes
Resistance System: Generator
Call 512-687-3161 to Purchase E70 Elliptical
(MSRP $2,999)
Price $2,199 + Tax $181.42
Shipping (4-6 days) $263.88
Grand Total $2,644.30
512-687-3161 Please call us with any questions
and/or to place your order.
Contact Information:
FitDel
8222 Jamestown Drive #D102
Austin, TX 78758

Refund Policy: To keep pricing as low as possible, FitDel does not offer refunds on purchased equipment. See manufacturers warranties below.

Rental Note: Rented equipment may be exchanged at any time during the course of your contract. All you pay for is delivery and you will be billed moving forward at the rate of new piece of equipment. Your rental contract remains the same length.
Billing Terms & Conditions: FitDel only sells and ships equipment within the state of Texas. The price above is exactly what you will pay. We accept Visa, Mastercard, Discover as payment on phone orders.
Warranty Information: Warranties are provided by Manufacturers.
Rental Note: Warranties are not applicable to Rental equipment as ALL service and maintenance is included in your rental.
Fitnex Registration
http://www.fmiamerica.com/warranty-registration.html
BowFlex Registration
http://www.bowflex.com/customer-service/product-registration.html
Body-Solid Registration
http://www.bodysolid.com/warranty/warranty_registration/