Mighty Mover
36" wide, 450lbs Treadmill. 32" door. Only 1 Delivery Person... No Problem!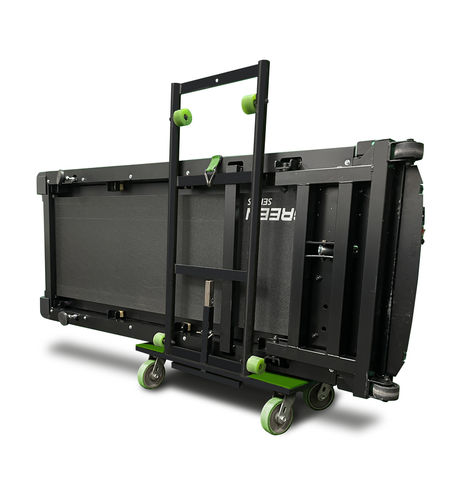 Mighty Mover
Safer - Easier - Faster
Moving made simple.
In the multi-billion dollar world of specialty moving and deliveries there is no safe, easy and fast solution to moving treadmills. So the FitDel team created a revolutionary specialty dolly in order to overcome the challenge of moving heavy, oversized treadmill decks into customers' homes.
Treadmill decks can top 300 pounds and are 30 to 36 inches wide. A standard residential door is 32 inches with a clear opening of about 29 inches. Most treadmill decks have to be flipped on their sides to get through residential doors.
This means utilizing strong workers lifting over 100 pounds each, placed in awkward positions while carrying treadmills through narrow areas. Four-wheel furniture dollies are also frequently utilized but require movers to precariously balance the deck. This resulted in worker injury and damage to property and the treadmills.
The ideal solution is the Mighty Mover. The Mighty Mover dramatically increases the safety of moving treadmill decks. It also reduces the number of people needed to move a large treadmill deck from as many as eight people to only one person.
The Mighty Mover is a US-made specialty dolly built with high-quality US steel and has a weight capacity of 2,000 lbs. That's enough to safely carry any commercial treadmill deck in production.