Rent a Concept 2 Model D Rower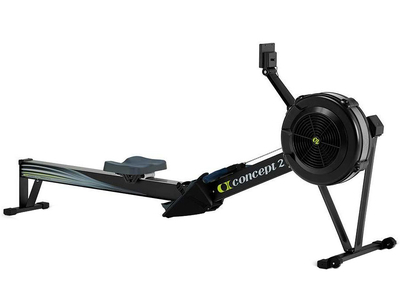 The dependable performance of our Model D Indoor Rower has made it the best selling indoor rower in the world. Recognized by competitive rowers as the standard for indoor training, the Model D delivers an effective cardiovascular workout that will increase your fitness level and tone your physique. At a fraction of the cost of other home fitness equipment or a yearly gym membership, you can have the luxury of working out in your home whenever you choose…and get a great workout to boot.
Monitor - PM5
Overall Length - 96 in (244 cm)
Width - 24 in (61 cm)
Seat Height - 14 in (36 cm)
Monorail Length - 54 in (137 cm)
Chain or Cord - Nickel-plated steel chain
Chain/Cord Housing - Partially enclosed
Power Generation for PM Takes two D cell batteries. During your workout, the monitor draws power from the spinning flywheel to extend battery life.
Maximum User Weight - 500 lb (227 kg)
Support Legs - Aluminum front legs, steel rear legs
Monitor Arm - ABS plastic. Pivots for storage and to adjust monitor height. Monitor angle can also be adjusted.
Storage - Can be separated into two parts for easy storage
Space Requirements - Assembled: 8 ft x 2 ft (244 cm x 61 cm)
With Clearance for Use - 9 ft x 4 ft (274 cm x 122 cm)
For Storage - 25 in x 33 in x 54 in (63.5 cm x 83.8 cm x 137.2 cm)
Machine Weight - 57 lb (26 kg)
Rent Today ~ Delivered Tomorrow!
12 months - $70/m
6 months - $90/m
monthly - $105/m
Service & Maintenance Included! Normal delivery $50
Rent Concept 2 Model D Here
If you wish to rent multiple pieces of equipment please call 512-687-3161