Rent Club Quality Fitness Equipment
for Events & Trade Shows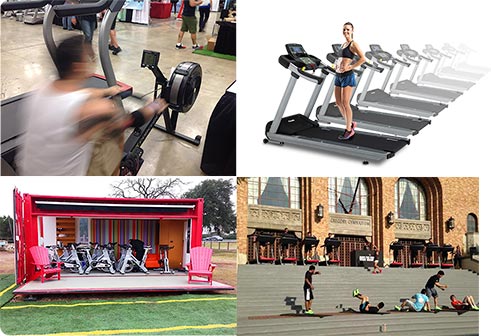 Guaranteed On-Time Delivery

All Inclusive Price: Delivered, Installed & Picked up

Club Quality Fitness Equipment

Rent for Hours or Days
Call 512-687-3161 Today for Your Free Consultation.
What Customers have to say

I found FitDel while searching through the internet for a company that I could rent several treadmills for a one-day work project. I wasn't sure if there would be a company that would fit the bill. Thankfully, FitDel exists and worked with me on my unusual request! Duncan worked with me from Day 1 on this project, which started in the summer, but didn't actually take place until the fall. He is friendly, professional, and figured out a way to meet the requirements that I needed. He was super helpful during the entire process and let's just say, it was a process. During the set-up, Mark joined Duncan to check all of the treadmills to ensure they were working properly. He too was a great person to work with at FitDel. The treadmills worked fabulously and the FitDel team came back the following day to pick them up. If you are looking for great customer service and quality fitness machines for your home, I highly recommend FitDel!
~ Jami N.
All the Details
Free Logistics Consultation
We make things as easy as possible for you which then makes it easy for us and everybody wins.
Please call us at 512-687-3161 to plan out the logistics for your event or tradeshow booth.
We will discuss all the logistics for the usage of any of our equipment including:
dropping off & picking up the equipment, and power requirements, space needed for single or multiple pieces, environmental conditions, the time needed, and numerous other aspects of fitness equipment rental.
The price is all-inclusive
Includes delivery, installation and pickup.
Additional services available (if needed)
Site inspections & on-site logistics
If you are unsure about your venue, for $75 we will come out to your site and go over delivery, installation and pickup logistics.
Techs Standby - $50/hr
For shorter time-sensitive events we may need to stay on scene for the full event in order to pick up as soon as it's over.
Other circumstances may include equipment instruction & oversight for the duration of event.
We have done amazing things with our equipment leading to incredible events for our clients.
If you have any questions or concerns please ask us.
Power Requirements
Treadmills each require a 20amp circuit.
Alternatively we have motorless treadmills that have no power requirements.
The recumbent bike requires a standard outlet to power the console.
Only our treadmill and recumbent bike have the need for power.
Event Duration: Rent for Hours or Days
Rentals can be from an hour up to 5 days.
Events that require us to be available for pickup or delivery outside of our normal business hours will incur additional charges.
We'll work with your schedule
Our policy is to plan on being at your event 1/2 hour before you tell us we need to be there.
This gives the FitDel professionals time to walk the delivery route and spot any potential issues prior to the actual installation.
Club Quality Fitness Equipment
FitDel Exclusively rents Club Quality equipment that looks and works fantastic.
Reservation Cancellation Policy
We will accept Event reservations up to 45 days prior to your event and will call to confirm your equipment availability. However as reserved equipment cannot be rented to other customers, there is a 50% cancellation fee associated with reservations. If your event date needs to be rescheduled we can accommodate a change up to 5 days before or after your original scheduled date without incurring a fee.
Rent & Reserve
Call 512-687-3161 Today!