Rent a Fitnex E70 Elliptical Trainer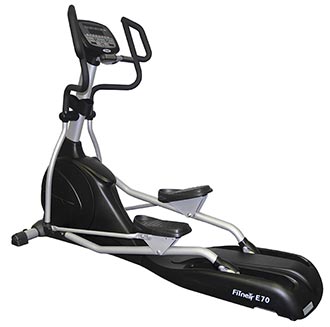 Give your body a hardy workout without stressing your joints with the Fitnex E70 Elliptical Trainer. Design & Engineering come together in this unique masterpiece of exercise technology. The E70 is a self-generating elliptical machine for low-impact cardiovascular exercise. The E70 has forward and reverse directional movement, EKG grip pulse handles, extra wide pedals, water bottle holder, and heavy duty steel frame construction.
Console Type: 4-Windows with Dot Matrix LED Display.
Console Feedback: Time/Distance/RPM/ Heart Rate/Work Level/Watt/ Speed/Calories
Programs: Manual/Weight loss/Fat burn/ Interval/Rolling/CV Workout/ Random/Heart Rate Control (HR-Weight Loss,HR-Interval,HR-Fat Burn,HR-CV workout)
Resistance Levels: 16
Power Requirement: Self-Generator
Floor Space: 222×65.5cm / 87"×26"
Max. User Weight: 400lbs(180kg)
Stride Length: 48cm(19")
Watt: 30~250 WATTS
Contact & Wireless HR: Yes
Resistance System: Generator
- Residential Rental Rates -
12 months - $90/m
6 months - $115/m
monthly - $135/m
100% Service & Maintenance Included!
Standard Delivery Charge (Pickup included) $100
We will call to review delivery. We cannot deliver to all locations in all residences.